---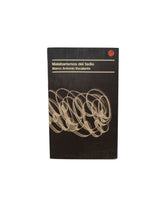 Malabarismos del tedio by Marco Antonio Escalante
Esta obra sublime de Marco Antonio Escalante convida a visitar los paisajes interiores del autor y los fantasmas de su glosario literario. Es este un libro de libros y nocturnidades, una epopéyica narración de la búsqueda interior desde las vecindades del tedio y con lo nimio a cuestas.
Malabarismos del tedio es quizás inclasificable, fajo donde si bien destella la ensayística en su puro estado de vagabundeo temático (leeremos sobre las andanzas de Chateaubriand y Stendhal; sobre los gatos y la lluvia; sobre las ciudades, Sócrates, el dinero y la manera ideal de sostener un libro), no menos cierto es que la confesión y la meditación filosófica están esparcidas en gran parte de su contenido. Bienvenida sea tal disyuntiva, porque en esta obra el arquetipo no tiene lugar, apenas la sugerida organización de los textos es guía suficiente para el lector encontrar en su impecable edición un refugio para el alma inquieta, una pausa para pensar sobre lo simple y lo banal a manos de una prosa firme, y a la vez plácida. Como el pelambre felino percibido detrás de cada capítulo de Malabarismos del tedio.
Dimensions: 5 x 8", 163 pages 
Material: Softcover book 

7Vientos
(Berwyn)

7Vientos is an editorial project and publisher of high-quality literature. Its objective is to contribute to a more intense dialogue between Spanish and English in the United States and Latin America.