---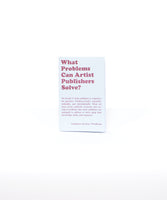 What Problems Can Artist Publishers Solve? by Temporary Services with PrintRoom
Temporary Services booklet #118 is a collaboration with PrintRoom in Rotterdam, produced in advance of a mini-showing of Self-Reliance Library in July 2018. For this booklet they invited 17 artist publishers to respond to the question: Thinking locally, regionally, nationally, and internationally: What are some social, political, economic and ecological problems that artist publishers are equipped to address or solve using their knowledge, skills, and resources? With contributions from: Josh MacPhee, Eric Von Haynes, Tim Devin, Journal of Aesthetics and Protest, Richard Lee / Booklyn, Press Press, Llano del Rio Collective, Thick Press, Alex Arzt, AND Publishing, Jan Steinbach, antoine lefebvre editions, Simon Worthington, Freek Lomme / Onomatopee, Clara Balaguer / Hardworking Goodlooking, Nina Prader / Lady Liberty Press, and Eleanor Vonne Brown.
Dimensions:
5.5 X 8.5", 40 pages
Materials:
Softcover book

Half Letter Press
(Avondale)

Half Letter Press is a publishing imprint and online store initiated by Temporary Services—Brett Bloom & Marc Fischer, who have published booklets as an element of their collaborative work since 1998. Half Letter Press was created to publish and distribute book and booklet length works by themselves and others, and to use this endeavor to build long-term support and expanded audiences for people that work creatively in experimental ways.