---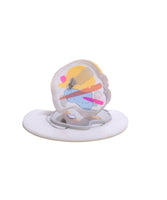 Future Reliquaries (No. 16)
The series Future Reliquaries engages with practices of world-building and myth-making by treating organic objects found at sites of personal pilgrimage as fragments of a geologic body. Through a series of fabricated reliquaries, the series plays with ideas of speculative archeology, material alchemy, and encapsulation.
Dimensions: 7 x 4"
Materials: Acrylic, found object.



Kayla Anderson
(Logan Square)

Kayla Anderson is an interdisciplinary artist, a critical writer, a sometimes-curator, a precarious administrator, and an aspiring educator. Pers visual practice is time-based, spanning video and new media, performance, installation, and publication. Through art, per practices ways of being with the world: of uncovering its curiosities and rubbing up against its contradictions. Pers work often investigates the ways that culture and subjectivity shape, and are shaped by, technology. As an animist, per is invested in building relationships with the non-human world. Pers writing focuses on art as a testing ground for developing new relations, ethics, and worldviews. Pers work has been shown at itinerant spaces in the US, Vietnam, Singapore, and Australia, and pers writing has been published by Leonardo Journal, Art & Education, Kunstlicht Journal, and Aperture Magazine.