---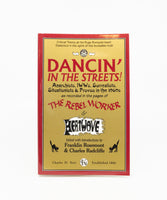 Dancin' in the Streets! Anarchists, IWWs Surrealists, Situationists & Provos in the 1960s
While square critics derided them as "the left wing of the Beat Generation," the multi-racial, working-class editorial groups of The Rebel Worker and its sister journal Heatwave in London became well known for their highly original revolutionary perspective, innovative social/cultural criticism, and uninhibited class-war humor. Rejecting traditional left dogma, and proudly affirming the influence of Bugs Bunny and the Incredible Hulk, these playful rebels against work expanded the critique of Capital into a critique of daily life and developed a truly radical theory and practice, rooted in poetry, provocation, blues, jazz, and the pleasure principle. Active in strikes, free-speech fights, and other tumults, they also introduced countless readers to important writings by and about surrealists, Situationists, IWWs, anarchists, libertarian Marxists, Provos, the Japanese Zengakuren, and other political/cultural revolutionary-minded individuals and movements from all over the world. This lavish tome provides dozens of selections from all the editions of both journals, with a wealth of related documents, communiques and articles, a bibliography, and detailed introductions by the original editors. What other work could Murray Bookchin, Sam Dolgoff, and Guy Debord all agree was worthwhile and revolutionary!
Dimensions:
5.5 X 8.5", 447 pages
Materials:
Softcover book
Charles H. Kerr Publishing
(South Chicago)

Founded by Charles Hope Kerr, a son of abolitionists, in 1886, Charles H. Kerr Publishing is the oldest continuously running radical publisher in the US, offering "subversive literature for the whole family." Close to the Socialist Party and the Industrial Workers of the World, Kerr brought out many Marxist classics, including the first complete English edition of Capital (1906–1909), as well as works by anarchist Peter Kropotkin, feminist Matilda Joslyn Gage, Irish revolutionist James Connolly, animal rights crusader J. Howard Moore, such noted U.S. socialists as Eugene V. Debs, "Mother" Jones, Upton Sinclair, Jack London, Gustavus Myers, Carl Sandburg, William D. Haywood, Mary E. Marcy—whose Shop Talks on Economics (1911) sold over two million copies—and, more recently, Staughton Lynd, C. L. R. James, and Carlos Cortez.