---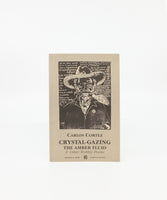 Crystal Gazing the Amber Fluid and Other Wobbly Poems
Son of a Mexican Wobbly father and a German socialist-pacifist mother, Carlos Cortez served 2 years in the federal pen at Sandstone for refusing to fight for the bosses (ie Second World) War, and shortly afterward joined the Industrial Workers of the World (IWW). Ever since - as poet, artist, editor and public speaker - he has been one of the union's best-known figures. This is his first collection of his poems, illustrated throughout with his powerful woodcuts and cartoons. Passionate tributes to Joe Hill and other Wobbly martyrs, lyrics protesting war and racial injustice, humorous assaults on modern technology, and moving celebrations of biodiversity - all the poems of Carlos Cortez exemplify the old IWW slogan: Let's make this planet a good place to live. Eugene Nelson contributes a short introductory essay.
Dimensions:
 4.5 X 7", 55 pages
Materials:
Softcover book
Charles H. Kerr Publishing
(South Chicago)

Founded by Charles Hope Kerr, a son of abolitionists, in 1886, Charles H. Kerr Publishing is the oldest continuously running radical publisher in the US, offering "subversive literature for the whole family." Close to the Socialist Party and the Industrial Workers of the World, Kerr brought out many Marxist classics, including the first complete English edition of Capital (1906–1909), as well as works by anarchist Peter Kropotkin, feminist Matilda Joslyn Gage, Irish revolutionist James Connolly, animal rights crusader J. Howard Moore, such noted U.S. socialists as Eugene V. Debs, "Mother" Jones, Upton Sinclair, Jack London, Gustavus Myers, Carl Sandburg, William D. Haywood, Mary E. Marcy—whose Shop Talks on Economics (1911) sold over two million copies—and, more recently, Staughton Lynd, C. L. R. James, and Carlos Cortez.