---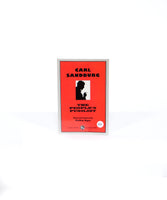 The Peope's Pugilist by Carl Sandberg
Carl Sandburg is widely known as the "great" poet from Illinois, and especially remembered for his monumental three-volume biographical study of Abraham Lincoln. He was also a journalist, author of children's stories, and pathbreaking songwriter. This new collection of his writings conveys the excitement and tragedy of his times and his commitment to a movement for change.
Dimensions:
5.5 X 8.8," 282 pages
Materials:
Paperback book
Charles H. Kerr Publishing
(South Chicago)

Founded by Charles Hope Kerr, a son of abolitionists, in 1886, Charles H. Kerr Publishing is the oldest continuously running radical publisher in the US, offering "subversive literature for the whole family." Close to the Socialist Party and the Industrial Workers of the World, Kerr brought out many Marxist classics, including the first complete English edition of Capital (1906–1909), as well as works by anarchist Peter Kropotkin, feminist Matilda Joslyn Gage, Irish revolutionist James Connolly, animal rights crusader J. Howard Moore, such noted U.S. socialists as Eugene V. Debs, "Mother" Jones, Upton Sinclair, Jack London, Gustavus Myers, Carl Sandburg, William D. Haywood, Mary E. Marcy—whose Shop Talks on Economics (1911) sold over two million copies—and, more recently, Staughton Lynd, C. L. R. James, and Carlos Cortez.