---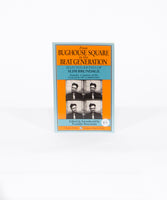 From Bughouse Square to the Beat Generation: Selected Ravings of Slim Brundage Ed. by Franklin Rosement
A unique combination of tavern, university and nonstop wild party, the College in its heyday (1951-1961) was for many years Chicago's outstanding outsider outpost. The writings collected here by the College's Founder and Janitor, Slim Brundage (1903-1990), chronicle the colorful history of what may well be the oldest continuous dissident working class intellectual community in the US. Hobo, Wobbly, Soapboxer, veteran of Bughouse Square and the Dil Pickle, 'little theater' playwright/actor, president emeritus of the Hobo College in the 1930s, housepainter, humorist, and chief architect of the scandalous Beatnik Party during the 1960 elections, Brundage was very much a maker of the history he writes about. Here are exciting first-person accounts of tramping, open forums, the fabulous Pickle, the hobo colleges, the Radical Bookshop, and the hilarious story of the College of Complexes as it evolved from the last of the old-time free-speech forums into Chicago's Number One 'beatnik bistro'.
Dimensions:
5.5 X 8.4," 180 pages
Materials:
Softcover book

Charles H. Kerr Publishing
(South Chicago)

Founded by Charles Hope Kerr, a son of abolitionists, in 1886, Charles H. Kerr Publishing is the oldest continuously running radical publisher in the US, offering "subversive literature for the whole family." Close to the Socialist Party and the Industrial Workers of the World, Kerr brought out many Marxist classics, including the first complete English edition of Capital (1906–1909), as well as works by anarchist Peter Kropotkin, feminist Matilda Joslyn Gage, Irish revolutionist James Connolly, animal rights crusader J. Howard Moore, such noted U.S. socialists as Eugene V. Debs, "Mother" Jones, Upton Sinclair, Jack London, Gustavus Myers, Carl Sandburg, William D. Haywood, Mary E. Marcy—whose Shop Talks on Economics (1911) sold over two million copies—and, more recently, Staughton Lynd, C. L. R. James, and Carlos Cortez.