---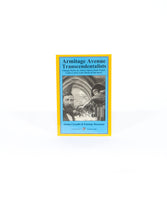 Armitage Avenue Transcendentalists by Janina Ciezadlo & Penelope Rosement
The secret history of Chicago. From the South Side's Hyde Park, to the North Beach of Rogers Park, with sidelights in the suburbs and notable stop-overs at Bughouse Square, this lively and wide-ranging book portrays a different vision of Chicago that readers will find refreshing and unforgettable. Here are real-life stories of artists, actors, musicians, post-office workers, poets and dreamers, Maxwell Street defenders and civil rights activists, longtime residents and visitors from afar, from the World's Fair in the 1930s to today.
Dimensions:
5.5 X 8.2," 146 pages
Materials:
Softcover book
Charles H. Kerr Publishing
(South Chicago)

Founded by Charles Hope Kerr, a son of abolitionists, in 1886, Charles H. Kerr Publishing is the oldest continuously running radical publisher in the US, offering "subversive literature for the whole family." Close to the Socialist Party and the Industrial Workers of the World, Kerr brought out many Marxist classics, including the first complete English edition of Capital (1906–1909), as well as works by anarchist Peter Kropotkin, feminist Matilda Joslyn Gage, Irish revolutionist James Connolly, animal rights crusader J. Howard Moore, such noted U.S. socialists as Eugene V. Debs, "Mother" Jones, Upton Sinclair, Jack London, Gustavus Myers, Carl Sandburg, William D. Haywood, Mary E. Marcy—whose Shop Talks on Economics (1911) sold over two million copies—and, more recently, Staughton Lynd, C. L. R. James, and Carlos Cortez.