---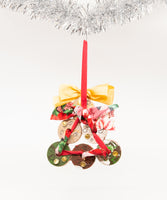 Ornament by Maria Vanik
Made by Maria Vanik.
Born in 1970, Maria is a lifelong Chicagoan. While she has an extensive background in experimenting with fiber and sculpture materials, she's currently focused on a prolific studio practice based in drawing. Vanik expands on references ranging from found imagery to pop culture to personal memories through the inclusion of patterns and vibrant colors, paired with a distinct approach to symbolism and mark-making. She has been a member of Arts of Life's Chicago studio since 2017.

'I like to make artwork. The colors are very very bright. I like to use markers to draw raindrops, a rainbow, a tree. Next time I will do it different. I like to start with a white blank background. I like to use bright colors with dark colors. I like to use a lot of them, and mix them together.'

Maria's work has been included in Circle Contemporary group exhibitions, including Entrelazar, All Well and Good, and Electric Pink Lemonade.
Dimensions: 6 x 6 x .5"
Materials: Fabric, ribbons, hand painted wood, and brass sequins


Arts of Life
(West Fulton Market)

Arts of Life is a non-profit founded in 2000 with a shared vision: to create a working, person-centric, artistic community while providing a work environment of equality in Chicago. For artists at Arts of Life, a career in the visual arts is an opportunity for meaningful employment. Each artist has their own studio space and works independently from individualized project plans or receives 1:1 visual arts facilitation to increase their artistic skill set. Artists earn a monthly stipend for participation in the program with eligibility to receive bonuses based on personal annual art sales. They represent over 60 artists with varying levels of physical and intellectual disabilities.