---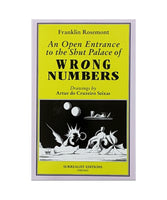 An Open Entrance To The Shut Palace Of Wrong Numbers by Franklin Rosemont
Like everyone else, you dial and receive Wrong Numbers. But what do you make of them? And what do they make of you? What do these calls, universally regarded as irritating, tell us about the society we live in, about ourselves as individuals, and about the possibilities of social transformation. These are just a few of the many provocative questions raised by Rosemont in his new book. Along the way we are introduced to many "Friends of Wrong Numbers" through the ages—Gnostics, heretics, alchemists, nonconformist thinkers, poets, and jazz people, from Meister Eckhart, Eiranaeus Philalethese, and Giambattista Vico through Isidore Ducasse, Saint-Pol-Roux, and Neve Leona Boyd to Andre Breton, Sun Ra, and Nicole Mitchell. A major contribution to the critique of miserabilism and an uncompromising celebration of the Marvelous, this book helps chart the way toward a new and truly free society, ground in humankind's recovery of freedom now, poetry, equality, solidarity, generosity, ecological balance, and the triumph of the pleasure principle!
Dimensions:
5.5 X 8.5," 177 pages
Materials:
Softcover book
Charles H. Kerr Publishing
(South Chicago)

Founded by Charles Hope Kerr, a son of abolitionists, in 1886, Charles H. Kerr Publishing is the oldest continuously running radical publisher in the US, offering "subversive literature for the whole family." Close to the Socialist Party and the Industrial Workers of the World, Kerr brought out many Marxist classics, including the first complete English edition of Capital (1906–1909), as well as works by anarchist Peter Kropotkin, feminist Matilda Joslyn Gage, Irish revolutionist James Connolly, animal rights crusader J. Howard Moore, such noted U.S. socialists as Eugene V. Debs, "Mother" Jones, Upton Sinclair, Jack London, Gustavus Myers, Carl Sandburg, William D. Haywood, Mary E. Marcy—whose Shop Talks on Economics (1911) sold over two million copies—and, more recently, Staughton Lynd, C. L. R. James, and Carlos Cortez.