---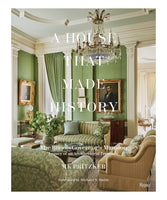 A House That Made History: The Illinois Governors Mansion, Legacy of an Architectural Treasure
In an extraordinary restoration project, Michael S. Smith, interior designer for the Obama White House, recently redecorated the Illinois Governor's Mansion in collaboration with First Lady MK Pritzker, utilizing the best of Illinois's long tradition of fine craftsmanship to allow the mansion's prodigious history, exceptional decorative arts, and superb art to shine. This visually stunning volume not only celebrates the updating of the Italianate–Greek Revival Illinois Governor's Mansion in Springfield but also tells the story of the house's evolution since 1855, of the lives and times of the renowned personages who inhabited it, and of the illustrious visitors, including Abraham Lincoln and FDR. The rooms have been enhanced with sophisticated color palettes, gorgeous fabrics, wallpapers, and bespoke furniture. In celebration of Illinois, one hallway is covered in a striking corn-motif pattern; the Governor's Dining Room is embellished with a charming folk-style mural; and the chic Chicago Room was created, featuring Frances Elkins's canopied beds and a Samuel Marx secretary cabinet. This book is ideal for those who love architecture, antiques, and learning about the lives of prominent Americans.
Dimensions: 10 x 13"
Materials: Hardcover book, 272 Pages




Chicago Architecture Biennial
(Downtown)


The Chicago Architecture Biennial (CAB) is dedicated to creating an international forum on architecture and urbanism. It produces year-round programs and a biennial exposition of city-wide activations for a diverse audience of designers, educators, advocates, and students. CAB's mission is to engage and inspire professional and public audiences, highlight the transformative power of architecture and envision a future for the field that is equitable and sustainable.

The signature program of the Chicago Architecture Biennial stands as North America's largest international survey of contemporary architecture and takes place every two years at the Chicago Cultural Center and sites across the city. CAB has hosted three editions since its founding: ...and other such stories (2019); Make New History (2017); The State of the Art of Architecture (2015). The fourth edition, which will open in 2021, is titled The Available City. CAB programming throughout the year engages global audiences in conversations exploring critical ideas and questions facing the field, and beyond. "