---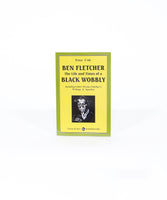 Ben Fletcher The Life and Times of a Black Wobbly by Peter Cole
This book tells the story of one of the greatest heroes of the American working class movement. In the early 20th century, when many U.S. unions disgracefully excluded black and Asian workers, the Industrial Workers of the World warmly welcomed people of color, in keeping with the Wobbly emphasis on class solidarity and the motto: An Injury to One is an Injury to All! The great African American Wobbly organizer, Benjamin Fletcher (1890-1949), was noted for his brilliant organizing ability and imaginative on-the-job strategies, as well as for his courage, humor, and excellent as a soapbox orator. Peter Cole chronicles the ups and downs of the Philadelphia waterfront union in which Fletcher played such a leading role: Local 8 of the IWW's Marine Transport Workers Industrial Union.
Dimensions:
5.3 X 8.2", 149 pages
Materials:
Softcover book
Charles H. Kerr Publishing
(South Chicago)

Founded by Charles Hope Kerr, a son of abolitionists, in 1886, Charles H. Kerr Publishing is the oldest continuously running radical publisher in the US, offering "subversive literature for the whole family." Close to the Socialist Party and the Industrial Workers of the World, Kerr brought out many Marxist classics, including the first complete English edition of Capital (1906–1909), as well as works by anarchist Peter Kropotkin, feminist Matilda Joslyn Gage, Irish revolutionist James Connolly, animal rights crusader J. Howard Moore, such noted U.S. socialists as Eugene V. Debs, "Mother" Jones, Upton Sinclair, Jack London, Gustavus Myers, Carl Sandburg, William D. Haywood, Mary E. Marcy—whose Shop Talks on Economics (1911) sold over two million copies—and, more recently, Staughton Lynd, C. L. R. James, and Carlos Cortez.