---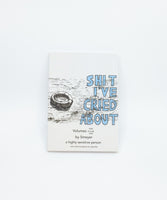 Shit I've Cried About, Vol 1-5 by Smeyer
As a highly sensitive person, Smeyer has long dealt with an abundance of tears—weeping with joy, sadness, remorse, and honestly sometimes for no reason. Nearly three years since it began in the fall of 2016, and five volumes in, Shit I've Cried About is still going strong. The beauty of glimpsing the world through Smeyer's lachrymose eyes and penned drawings is in how she captures the fleeting moments of sadness and anger that punctuate each day. The collected Shit I've Cried About will make you laugh, cry, emote with your cats, and tell your friends how much you love them.
Sarah Meyer (Smeyer) is a writer, illustrator, and teacher living in Chicago. A graduate of the School of the Art Institute of Chicago's writing program, Smeyer's essays and writing have been published in the Manifest-Station, VICE Magazine, Full Grown People, and Paper Darts Magazine. Slightly more information is available on www.smeyernet.com.
Dimensions: 5 x 7 x .25"
Materials: Softcover book


Meekling Press
(Pilsen)

Meekling Press is a small "boundary defying" publisher, printer, and arts collective based in Chicago. We are a low-scale and DIT (Do It Together!) press. Many of our editions are handmade, partially printed on the letterpress, and/or hand-bound. We work in collaboration with our authors throughout the design and production process. We are not so interested in boundaries of genre, or in restrictions of length. What is more important is to find that sentence or that novel (etc) its most wonderful, thoughtfully-created nest.