---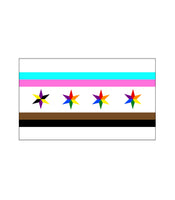 Intersectional Chicago Queer Pride Flag
Listen, Learn, and do the work.
When Jeffrey Allmen designed their first intersectional, inclusive, Queer pride flag in 2018, they aimed to highlight the Trans (pink/blue, also represented by white) and BIPOC (brown/black) humanity within the queer community. Statistically these glorious souls are more likely to die of violent crime, suicide, suffer in
poverty, be assaulted physically, and sexually. The 2020 flag includes a 
star to represent our Non Binary, Intersex and GenderQueer folx
(black, purple, yellow, also represented by white and green). The
best way to fight ignorance and fear, is with empathy and love.
Sharing our humanity and educating our neighbors to the
possibility and wonder within each of us. Flying this flag reminds
your friends and neighbors you see them, you stand with
them, you are listening, learning, and ready to do the work.

Dimensions:
24 x 36," 36 x 60," & 48 x 72"
Materials:
 Printed in the USA, triple stitched
Jeffrey Allmen
(Rogers Park)
Jeffrey grew up outside of Detroit, Michigan. They fell in love with all-things vintage and art with a message (conceptual art), They were intoxicated by the story, message and works of Marcel Duchamp, Andy Warhol, and Jean-Michel Basquiat, these artists are still some of their biggest influences today. Jeffrey Studied fine art, jewelry smithing, sculpture, ceramic arts, painting, and graphic design. Jeffrey moved to Chicago Nearly 20 years ago in search of a more progressive queer friendly community, and has called Chicago home ever since. In addition to painting and creating, Jeffrey is also a Yoga teacher and meditation guide.