---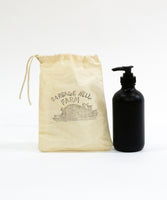 Everything Oil
Everything Oil is a blend of organic cold-pressed plant oils; Sweet Almond Oil, Argan Oil, and Jojoba. The essential oils in the Everything Oil are: Geranium, Cedarwood oil, and Clary Sage. Then Vitamin E is added and the bottle is infused with Palo Santo wood. This blend is made to be cleansing, moisturizing, clarifying and healing. It also smells incredible. It truly is EVERYTHING. 
Everything Oil comes in an 8oz reusable sexy matte black pump bottle which doesn't allow light to affect the oil, the cost with bottle is $35, and refills are $15 and can be done at Golden Hour Hair Co. or on site at Garbage Hill Farm.
Dimensions: 2.5 x 6" 
Materials:  8oz reusable matte black pump bottle
Garbage Hill Farm 
(McKinley Park)

Garbage Hill Farm is the project of Winnipeg native Jen Delos Reyes. The farm's name sake comes from her hometown's Westview Park which was built upon a garbage dump and is lovingly known as "Garbage Hill."
Garbage Hill Farm is located in Chicago Illinois McKinley Park neighborhood at SIDE by SIDE, a future residency for BIPOC arts and culture leaders and artists to rest and rejuvenate. The farm's CSAA (Community Supported Art/Agriculture program) is what provides the funding to support the artist residency.
The farm is committed to organic regenerative farming practices, closed loop production, and the elimination of single use plastics in distribution. We grow food and make household cleaners and beauty products that can be refilled onsite.
The farm is home to chickens, birds, and twin goats, Bucky and G.O.A.T.