---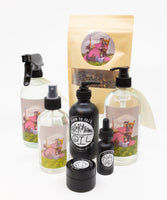 Garbage Hill Home Care Products
Cedar Hinoki Room Spray The primary note in this uplifting atmosphere mist is Hinoki wood, used across Japan in bath houses. Studies have shown that Hinoki has antimicrobial, and deodorizing properties. Witch hazel is a great odor neutralizer, so combined this makes a powerful combination to help naturally tackle any lingering odors in a space. This spray is primarily woody, bright, clean, and making spaces feel refreshed and like you just stepped into a restorative wood filled sauna in Japan.
Dimensions: 2.5 x 6"
Materials: Spring water, organic witch hazel, cedar wood oil, hinoki oil


Hinoki All Purpose Cleaning Spray Stop buying single use plastics! Stop having green cleaning products shipped and contributing to carbon emissions and packaging waste! Cleaning solutions and soaps come in refillable unbranded glass bottles which can be refilled on site at Garbage Hill Farm. Cleaning spray refills are 3.00.
Dimensions: 2.5 x 6"
Materials:  8oz reusable matte black pump bottle
 
Hinoki Dish Soap All soaps and cleaning products are dye free, vegan, cruelty free, paraben free, chemical free, and environmentally friendly.
Stop buying single use plastics! Stop having green cleaning products shipped and contributing to carbon emissions and packaging waste! All cleaning solutions and soaps come in refillable unbranded glass bottles which can be refilled on site at Garbage Hill Farm. Dish soap refills are $4.00.
Dimensions: 2.5 x 6" 
Materials:  8oz reusable matte black pump bottle
Garbage Hill Farm 
(McKinley Park)

Garbage Hill Farm is the project of Winnipeg native Jen Delos Reyes. The farm's name sake comes from her hometown's Westview Park which was built upon a garbage dump and is lovingly known as "Garbage Hill."
Garbage Hill Farm is located in Chicago Illinois McKinley Park neighborhood at SIDE by SIDE, a future residency for BIPOC arts and culture leaders and artists to rest and rejuvenate. The farm's CSAA (Community Supported Art/Agriculture program) is what provides the funding to support the artist residency.
The farm is committed to organic regenerative farming practices, closed loop production, and the elimination of single use plastics in distribution. We grow food and make household cleaners and beauty products that can be refilled onsite.
The farm is home to chickens, birds, and twin goats, Bucky and G.O.A.T.